Army mounted flag set with floor stand for parade or indoor use in office, lobby, stage or auditorium.
8th Air Force Flag Troop Support Items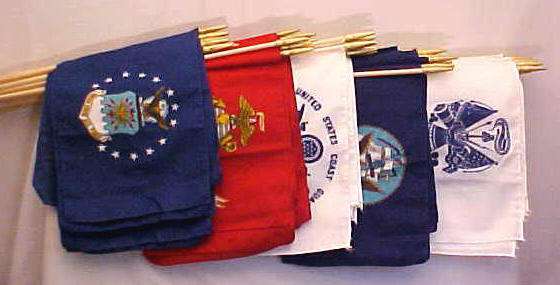 Army Stick Flags, Army Hand Held Flags
A most unique Army

3x5'#MILARAP $59.00 CLOSEOUT: $49 Limited to the stock on hand Finished with heading and grommets

Embroidered and appliquéd design. This is not your typical silk-screened design we're all used to. Just look at this detail.

Plus, this flag is DOUBLE-SIDED! It reads correct on both sides. I had never seen a double-sided Army flag let alone ever think one could be offered for $59.

I was shocked when I saw it. Never had I seen so much beauty and workmanship

This flag is made in China

This double sided flag is so rich in detail, fabric layers and embroidery, it is very heavy. Accordingly it will not be as good a flyer as the silk-screened nylon flags further down this page. For viewing up close as in a parade, on a wall, or on a front porch I have not seen a more beautiful United States Army flag in my career.
Appliquéd and embroidered double sided United States Army flags
Because of all the sewing in it and its double construction, this is a very heavy flag. If you are putting it on a pole in a bracket, don't use anything smaller than a 1" diameter pole.
What colors, what detail, what richness. The silk-screened flags below have their advantages, but none is more beautiful than this one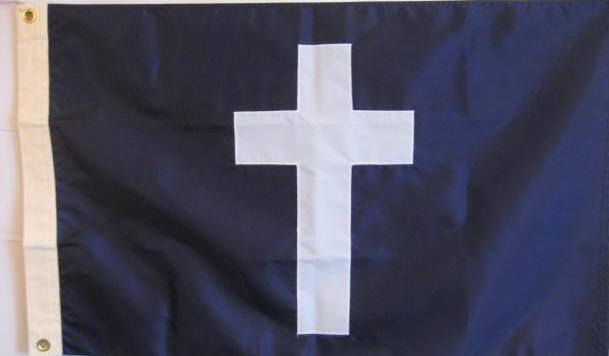 Army Chaplain Flag
2x3' SEWN design on rugged outdoor nylon
The sewn cross is on both sides
#ACH23 $39.00 This is a made to order item, allow about 3-4 weeks before it ships. We can not accommodate a deadline with this flag
See my tribute to all Chaplains
West Point Flag
3' X 5' printed polyester, Heading and Grommets
#WP9842 $39.00

Officially licensed 3' x 5' Deluxe flag with premium durable fabric, two grommets and quality stitching including a quad stitched fly end. The vibrant imprint is 100% show through to the backside with a long lasting color-fast dye. Fly on a flagpole or hang it on a wall.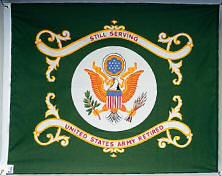 United States Army Retired Flag
#ARN $48.00 3x5' Nylon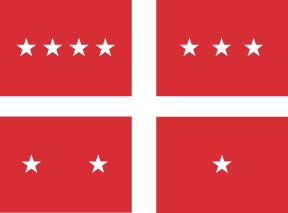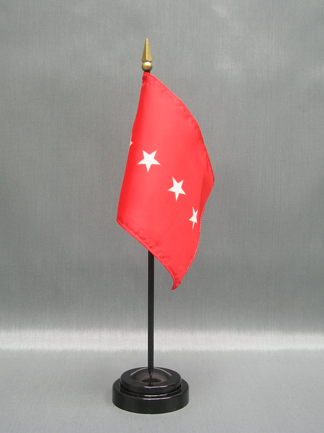 United States Army Officer Flags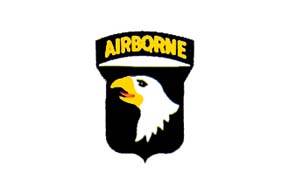 101st Airborne Flag 3x5' Polyester
#MILP5 $29.95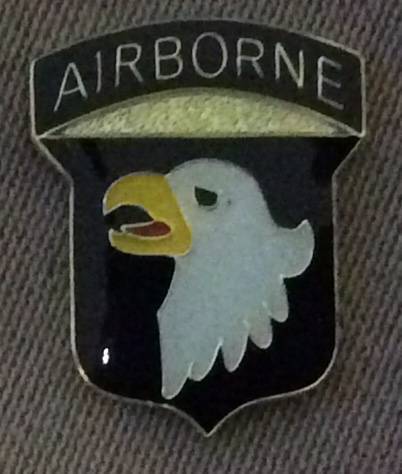 101st Airborne Lapel Pin
#R1543 $3.00 (CLOSEOUT LIMITED TO STOCK ON HAND) Approx .75 x 1"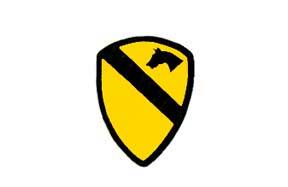 1st Cavalry Flag 3x5' Polyester
#MILP6 #MILP5 $29.95 each; CLEARANCE: $9.95 limited to stock on hand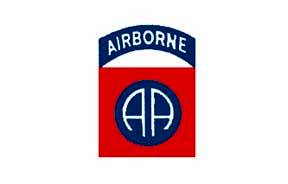 82nd Airborne Flag 3x5' Polyester
#MILP4 $29.95 each;
CLEARANCE: $9.95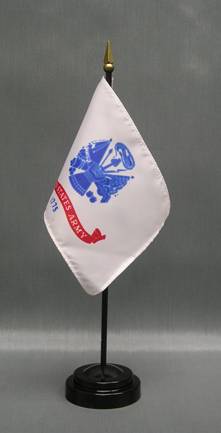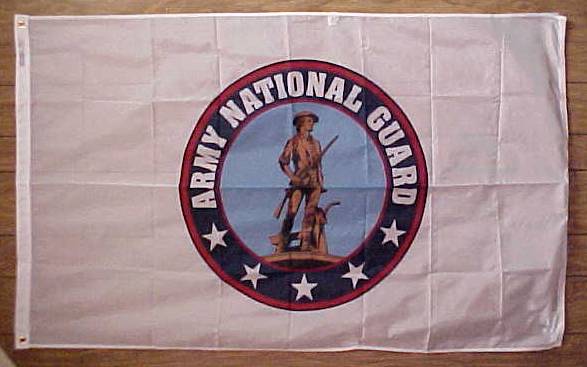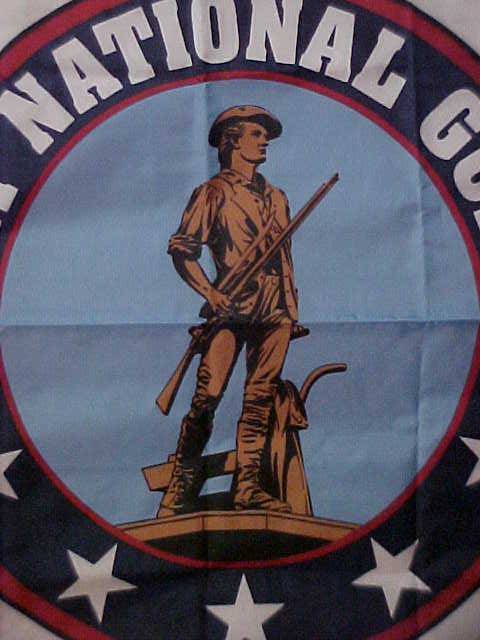 Army National Guard Flag
3x5' Nylon With Heading and Grommets #ARNG $39.50
This flag contains FIVE colors!
The flag photographed at left is right out of the package. The fold marks come out when you fly it.
Click for National Guard Grave Markers
The National Guard
The Guard birthday is December 13, 1636 when legislation was passed authorizing the force. Back then, a soldier might drop his plow and run to the village square. Today he may board a Galaxy and fly across continents.
America's citizen soldiers have answered her call since before there even was a United States of America. At 373 years old, The National Guard is the oldest component of the Armed Forces.
MAGNET CLOSEOUT SALE
High Quality wholesale military ribbon magnets Made in USA.
37/8" wide x 8" tall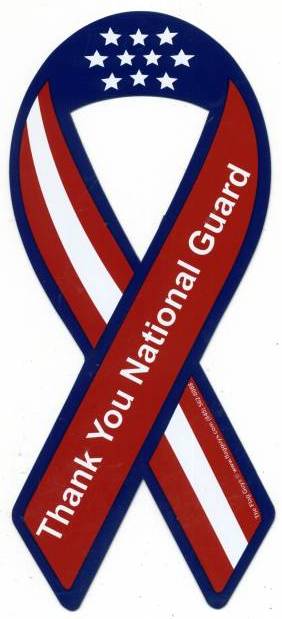 Thank You National Guard Magnet #MAGTYG
CLOSEOUT $1.49 each
$.99 for three or more
Blue Star Service Banner. For display by immediate family members of a person serving in the armed forces during a period of war. The service member need not be overseas.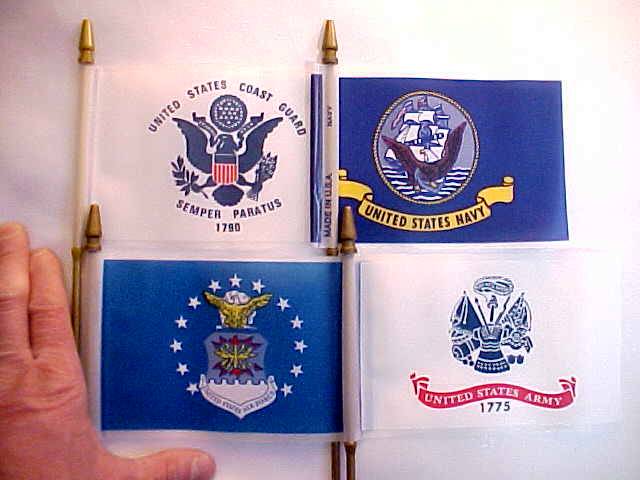 4x6" Plastic Flags on 10" Spear Tip Staff